SAFETY
With many innovative technologies available, you'll find all features have been designed to increase your driving experience while providing more safety.
Designed to help protect you, your passengers, the battery and other road users, I‑PACE has been engineered to include a wealth of safety features.
SAFETY CELL
I‑PACE utilises a combination of aluminium and steel to form a rigid cage around the battery, providing increased safety for all vehicle occupants.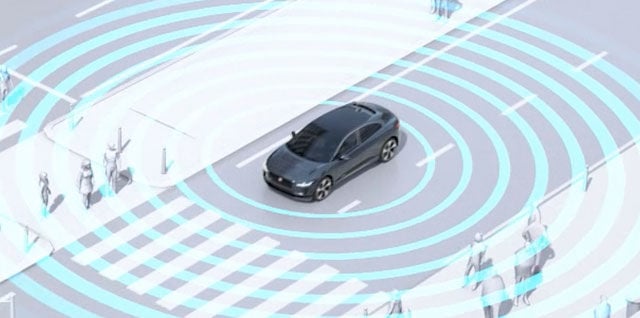 EXTERNAL SOUND SYSTEM
I‑PACE emits an external acoustic signal at speeds under 20km/h to help make pedestrians aware of the car's presence.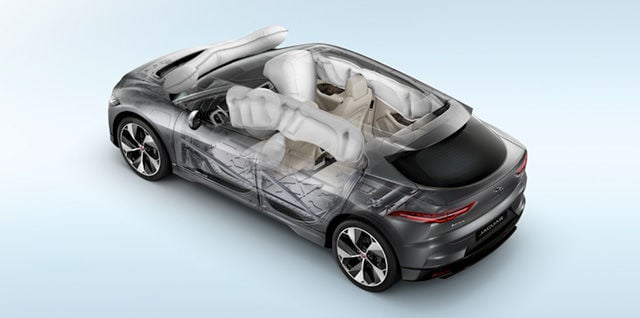 AIRBAGS
A comprehensive system of six airbags including driver and passenger airbags, side curtain and thorax are standard to help protect occupants.
INNOVATIVE SAFETY TECHNOLOGIES
From negotiating city traffic or the open road, to providing additional safety for you and your passengers, there's a wealth of innovative safety technologies available as standard, optional or as part of an optional pack.
DRIVER ASSISTANCE – STANDARD FEATURES
DRIVER ASSISTANCE PACKS
Each pack offers a range of features to help keep you safe and informed. Park Pack is standard on I‑PACE S. Park Pack and Drive Pack are standard on I‑PACE SE. Park Pack and Driver Assist Pack are standard on I‑PACE HSE and First Edition.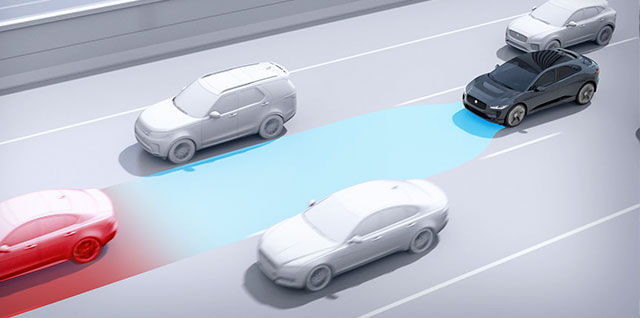 ADAPTIVE CRUISE CONTROL WITH STOP & GO
Keeps a safe distance from the vehicle in front even when it slows. Should the vehicle in front stop completely, you will come to a smooth halt behind it. In stop-start traffic, Adaptive Cruise Control will automatically resume following the car in front.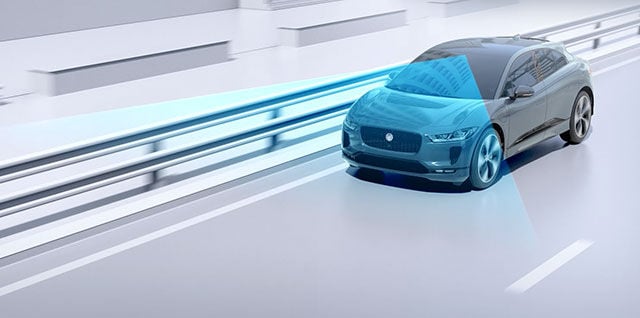 HIGH-SPEED EMERGENCY BRAKING
Detects when a potential frontal collision with another vehicle may occur and displays an alert, warning you to brake. In the event you do not react, the car will deploy the brakes in order to reduce the severity of the possible impact. Active between 10km/h to 160km/h.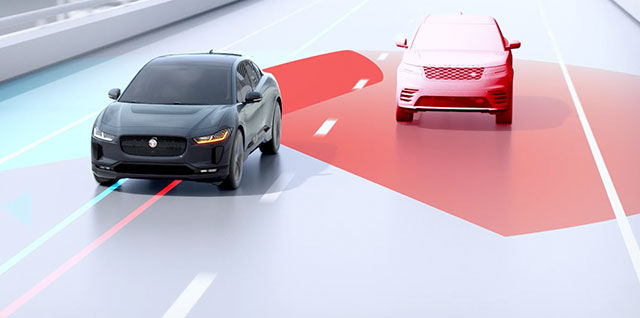 BLIND SPOT ASSIST
Blind Spot Assist can help you prevent collisions. If your vehicle detects another car in your blind spot when you begin to change lanes, a small warning light illuminates in the corresponding wing mirror and a steering torque encourages you to guide I‑PACE away from the approaching vehicle.
Find your own electrifying combination of Jaguar performance, technology and style.
All in-car features should be used by drivers only when safe for them to do so. Drivers must ensure they are in full control of the vehicle at all times.